City of Sao Paulo now a member of R20
By TEAM R20 | 3rd May 2017 | Updated at 02:05
---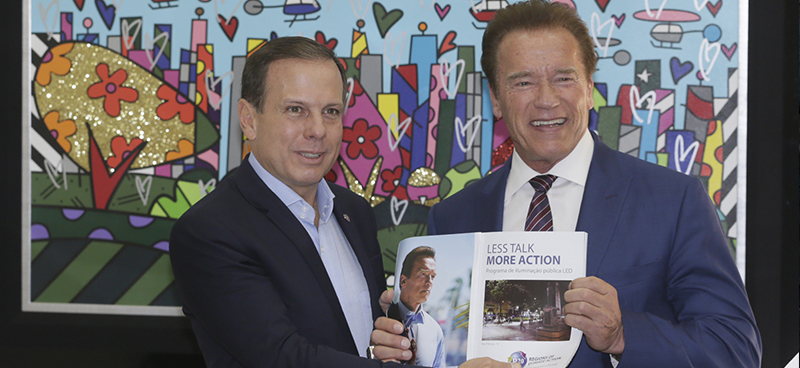 | During a visit to attend the 5th Arnold Classic Bodybuilding competition in the city of Sao Paulo, Brazil, Former California Governor and Founding Chair of R20 – Regions of Climate Action Arnold Schwarzenegger met with the Mayor of Sao Paulo, Joao Doria, to discuss low-carbon and climate-resilient development during a meeting organized by the R20 Brazil office. Sustainable development, green energy and sports were the main topics of discussion.
Schwarzenegger is a great motivator for environmental causes. He is building support for a large-scale environmental project for sustainability in cities, for the use of clean energy in public transport, particularly in city buses, as well as for programs that effectively promote reforestation and the expansion of green areas in cities.
 Joao Doria, Mayor of Sao Paulo.
Schwarzenegger also expressed his gratitude for the mayor's "passion" for taking a leading role in his city in tackling environmental issues and was glad to welcome the city of Sao Paulo as a member of R20.
The former California governor was in Sao Paulo to take part in the three-day Arnold Classic South America bodybuilding and sports-nutrition event.
The Arnold Classic, held for the first time in Sao Paulo after four years in Rio de Janeiro, received record breaking numbers and was up 30 percent in attendance over the previous year, giving access to 10,000 athletes participating in 37 different competitions.