Arnold Schwarzenegger received the Legion of Honour in Paris
By TEAM R20 | 2nd May 2017 | Updated at 04:05
---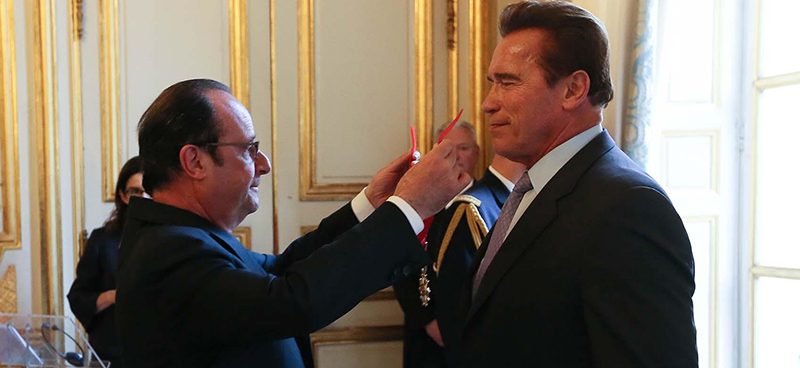 | Former California Governor, and R20 Founding Chair, Mr. Arnold Schwarzenegger, attended meetings in Paris last Friday with French President Mr. François Hollande, Mr. Laurent Fabius (President of the French Constitutional Council), and Ms. Anne Hidalgo (Mayor of Paris and Chair of C40 Cities). They shared their common vision for tackling climate change, and discussed ways to work together to implement the 2016 Paris Climate Agreement.
The R20 President, Ms. Michèle Sabban, organized the meetings, which were also attended by the R20 Executive Director, Dr. Christophe Nuttall.
Mr. Schwarzenegger and Ms. Hidalgo met at Paris City Hall to discuss the role subnational governments have to play in tackling climate change.
Schwarzenegger stated:
While the United Nations and heads of states push for climate action from a top-down approach, subnationals unlock action from the bottom up.
Mayor Hidalgo highlighted the role of cities in combating air pollution and improving public health with measures like bicycles lanes and public transport. The meeting culminated with a signed agreement between C40 and R20 to reinforce bottom-up climate action by regions and cities.
Mr. Schwarzenegger also had a meeting with Mr. Fabius to discuss a legally-binding global environmental rights initiative that France is going to propose in the coming months. France has asked former UN Secretary-General Ban Ki-moon and Arnold Schwarzenegger to take a leading role in helping build a general movement towards such an initiative. In honour of the initiative's launch, Mr. Schwarzenegger has been invited to deliver a keynote speech at the Sorbonne on June 24th 2017.
Mr. Schwarzenegger finished his Paris tour with a reception at Elysée Palace, where President Hollande presented Mr. Schwarzenegger with the Legion of Honour with Commandeur distinction. President Hollande congratulated and thanked Mr. Schwarzenegger for his personal involvement to protect the environment while he was Governor of California, and now through his leadership at R20. The Legion of Honour is the highest French order of merit for excellence in military and civil duties.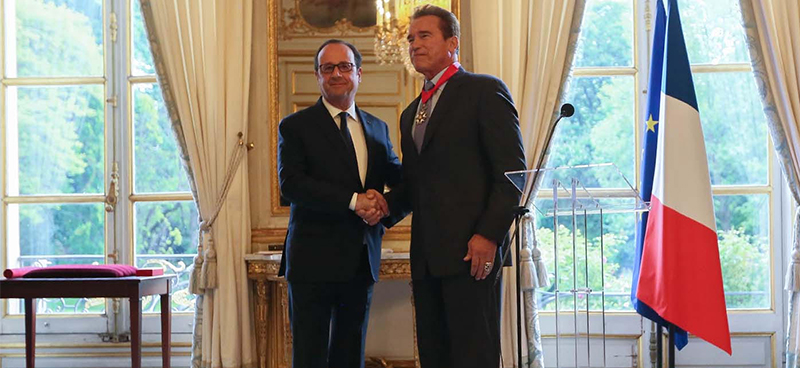 Mr. Schwarzenegger received the French Legion of Honour on April 28th 2017 for his strong legacy of environmental achievements.
Photos©ÉlyséeOfficiel