Egis and R20 sign partnership agreement
By EGIS | 11th January 2017 | Updated at 05:01
---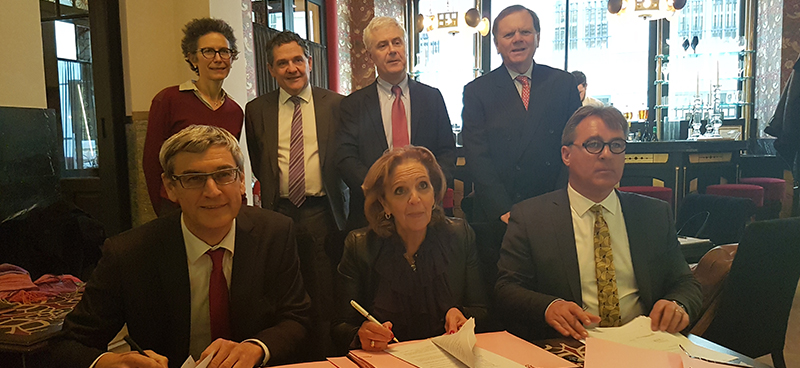 | On Wednesday December 14th in Paris, an agreement was signed between Egis, an international consulting and engineering group and subsidiary of French Caisse des Dépôts et Consignations (CDC), and R20, an international non-profit organization working to develop waste management, renewable energy and energy efficiency projects.
In the continuity of COP 21 and COP 22, this agreement seals a partnership which covers the development of Waste Management projects in developing countries. Egis and R20 have joined forces to create a pre-investment fund specializing in sustainable waste management and the development of Waste-to-Energy projects. This partnership will prepare the different upstream actors (national and local governments, industry and investors) to take the decisions necessary for the development of concrete projects, allowing the market of sustainable waste management to reach maturity. For this purpose, the pre-investment fund will finance two concrete actions in developing and emerging countries:
A campaign of feasibility studies in cities deemed mature, to identify, develop and structure projects likely to acheive the development objectives of local authorities and to be attractive to investors. These projects will be identified in close collaboration with industry and public and private investors.
A training program for national and local decision-makers in waste management. The program will focus on three areas that are critical to the decision-making process:
– the public policies needed for waste management
– existing waste management technologies in the market today
– the economic models and financial mechanisms necessary for the long-term success of sustainable waste management projects.
In light of their experience with several waste projects (Algeria, Maldives, Morocco, China), R20 and Egis intend to create an enabling environment that allows for the successful implementation of projects,such as waste sorting, recycling, and energy co-generation, thereby responding to serious environmental concerns.
R20 and Egis not only share the same vision and objective, but also the same values regarding the economic opportunities of waste management, including social benefits, the active participation of local communitiesin waste sorting and the creation of direct and indirect jobs.
This overall approach to sustainable development is part of the long-term commitment of Egis and its majority shareholder, CDC, for transitioning to a green economy.
The signing took place in the presence of, picture from left to right: Rik Joosten, Executive Director and CEO of Egis Projects; Michèle Sabban, R20 President; and Christophe Nuttall, R20 Executive Director. Back row, from left to right: Catherine Jatteau, Deputy CEO of Egis Structures & Environment; Rémi Cunin, Deputy CEO of Egis Group; Nicolas Jachiet, Chairman and CEO of Egis Group; and Terry Tamminen, CEO of the Leonardo DiCaprio Foundation.