"Being optimistic for our planet"
By TEAM R20 | 1st December 2016 | Updated at 09:12
---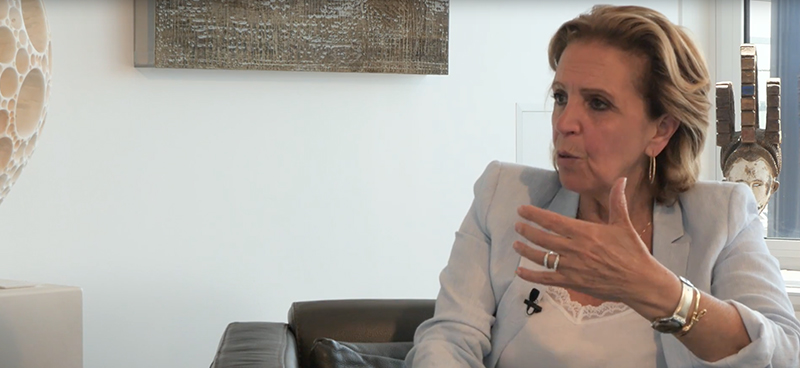 | On the occasion of the launch of R20's new website, Michèle Sabban, president of the R20, introduces the NGO and outlines its action.
What is the purpose of this R20's information website?
Today, in a connected world, it is fundamental to provide internet users with an interactive website. Dematerialized networks are expanding and this website represents for us an opportunity to communicate and relay our actions throughout the world. It will be a useful and convenient tool for all. It will also be an important platform to display information on the Green Fund for Women.
For those who haven't heard of it yet, what is the R20?
The R20 – Regions of Climate Action – is a non-governmental, non profit organization founded in 2010 by Governor Arnold Schwarzenegger and other world leaders in partnership with the United Nations. We are a coalition of actors including companies, pundits and governments officials led by subnational governments, which identifies, develops and finances green infrastructure projects that offer economic and environmental benefits. More than a think tank, the R20 is an action tank.
The specificity of the R20 is to take action at regional level. Indeed, we believe that, bottom-up approach is the best way to respond to current climate challenges. Sub-national governments are the most efficient actors to implement sustainable renewable energy projects because they are connected with the resources of their territory. We help regions to create "bankable" projects and overcome obstacles in succeeding.
In order to ensure the success and sustainability of our projects, we work closely with governments, local communities, NGOs and, of course, our partners, companies, experts and investors.
Which initiatives best symbolize your actions?
The R20 has implemented and supported many projects such as the 50 MW photovoltaic project of Kita in Mali, which is the largest solar power project in West Africa. We have also helped financed several LED public lighting projects in half a dozen cities in Brazil. In Algeria, the Wilaya of Oran has adopted a zero-waste program based on our guidances.
Can you explain where that R20's name comes from?
The ambition of the R20 was to gather the 20 richest sub national governments of the world in order to implement best practices on climate change policies. It was meant to be a forum in regard of the G20.
What is Arnold Schwarzenegger's involvement in the R20?
He is the founding president of the R20 and is recognized as one of the pioneer in tackling climate issues at sub national level as former governor of California. He has been with us since the foundation in 2010 and he is totally committed to our success.
To date, what are you best achievements as President of the R20?
Subnational governments including cities and regions are respected and identified actors in the climate change international negotiations. I am convinced that local governments can be leaders in the green transition by implementing green projects. The Paris agreement has been a fabulous demonstration of our achievements and the outcome of years of work and participation from non-state actors.
Actions in the field, financing, technology: where is innovation today?
It is all over! It is inevitable because we all live on credit since the planet regenerates less quickly than what one draws from it.
Only innovation can balance both to me, in the setting up of innovative financing as proposed in our financial reports to the President of the COP21, Laurent Fabius, last December, but also in the creation of New technologies as proposed by our partner experts, or in our political discourse so that people may feel a little more concerned every day.
What is missing?
We are far behind in terms of fundings. However, if we look closely at OCDE's works , we realize that there is a lot of money available, and not enough viable projects.
Who are your main allies in carrying out your mission?
As I said, the R20 operates as a three part work: regions, energy companies and experts. If these three branches are not together, it is impossible to move forward. Everyone's work must be recognized and put forward, we must work with each other if we are to live up to our ambition.
What strong announcements or initiatives are planned?
Last May, we officially announced new ties between the Leonardo DiCaprio Foundation and the R20 in response to United Nation's Secretary General Ban KI Moon, to accelerate the implementation of solutions. Under the mandate of the Leonardo DiCaprio Foundation, we have to identify about 100 renewable energy, waste management and energy efficiency projects from around the world which need technical and financial support to be developed.
Also, we have officially launched in November 2016 in Morocco the R20 Green fund for women to promote sustainable economy. This fund will benefit women entrepreneurs from all countries who create green business ventures, start-ups or SMEs employing and contributing to the empowerment of women in the green economy.
What are your goals for 2017?
Nothing stops with COP22 and we must continue to develop our actions in 2017 and so on. For us, it is important to expand our network of regions and spread our actions, with different programs such as the « 100 solutions projects » and through the Green Fund for Women which will finance green projects. We will also maintain our ambassador's role for local governments in the COP process.
Are you optimistic for the future of our planet?
Of course, and we must be! Humans are so ingenious, so creative that it is important to highlight the best practices to promote a positive future for our planet.