Massive "Climate Clock" launched in New York City
By TEAM R20 | 21st September 2020 | Updated at 09:09
---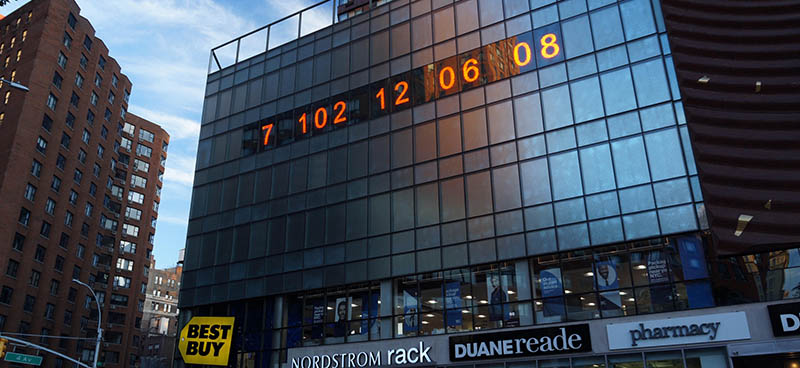 | Famed Union Square Metronome repurposed as beacon for urgent climate action.
In advance of Climate Week, the iconic Metronome clock in Union Square is being newly repurposed as a giant Climate Clock, an 80-foot-wide digital display that keeps track of our remaining time window to take urgent action on climate change.
The new monumental clock is meant to be the first of many in major cities across the world, helping governments and citizens "synchronize our watches" around a shared global timeline to reduce carbon emissions.
The numbers displayed (7 years, 102 days, counting down by seconds) show our critical time window to undertake bold transformation of our energy system and economy. With fires raging across the West Coast, 5 hurricanes churning in the Gulf, sea levels rising, drought impacting food supplies and other climate-related catastrophes, the clock communicates a clear message: We have no time to lose. The time for bold action is NOW.
Greta Thunberg was involved in the project early on and has the first hand-held climate clock ever made.
In the time of a pandemic, and election season, this work of public art is meant to bring public focus back to climate change.
The clock is part of a larger project that includes a ​website that explains the science, open-source DIY ​"maker-kit" so schools can make their own clocks​, and a ​phone app​.
Climate Change is already here. This clock is not an alarm clock saying, in 7 years it will ring and we need to wake up! It's more like a stopwatch already running that we have to keep pace with." said Gan Golan, the project originator. "We need to take action today, tomorrow, and the day after that. Let's get moving. Every second counts. We need to act in time.

The clock is a way to speak science to power, said Andrew Boyd, project co-founder. The clock is telling us we must reduce our emissions as much as we can as fast as we can. The technology is there. We ​can​ do this — and in the process, create a healthier, more just world for all of us. Our planet has a deadline. But we can turn it into a lifeline.