Three questions to Martha Isabel (Pati) Ruiz Corzo
By TEAM R20 | 12th February 2018 | Updated at 11:02
---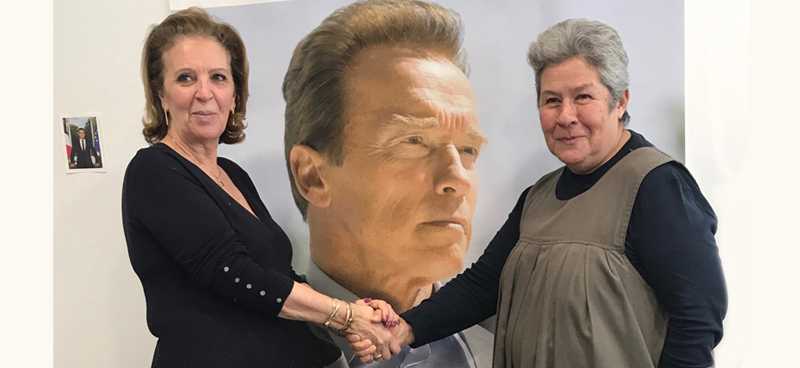 | Discussion with the team of Martha Isabel (Pati) Ruiz Corzo, a wonderful woman, a woman of spirituality and determination fully dedicated to mother-earth. A women anyone should learn from.
Can you tell us about you and your actions?
Martha Isabel's, (A.K.A. Pati) work began 35 years ago with the search for a more meaningful life, one in which she and her family could live by values of austerity, frugality, and self-reliance. She left behind all of the social and lifestyle comforts of an urban existence and a life dedicated to the arts. As a youth, she was First Violin in the Querétaro Chamber Orchestra, a soloist in choral groups, and taught music for 16 years, applying all of her passion to this vocation until she discovered the Sierra Gorda, a mountainous region that comprises the northern third of the state of Querétaro. At that point, her relentless searching led her down a new path, one whose destination was unknown, but trusting in her instinct for a closer connection with the natural world, she made the decision to cut all ties to her previous life and seek out the simple truths of a life lived close to nature. Upon embarking on this journey, she and her family learned many lessons by paying to close attention to the intricate tapestry of forest ecosystems.
Years later, after directly witnessing threats to the natural wonders of the Sierra Gorda, Martha Isabel and her family decided to form a civil society organization, Grupo Ecológico Sierra Gorda (GESG), in collaboration with other local residents, to protect the region's ecosystems and biodiversity. Since then, Martha Isabel and her team have managed, through methodical, focused and persistent efforts, to weave a social network dedicated to conservation and to generate the knowledge and experience that today has become an emerging strategy for confronting global warming and poverty. Through innovative programs, they have facilitated re-growth of forests and the creation of economic opportunities for communities in extreme poverty.
These programs achieve biodiversity conservation through enthusiastic participation among local communities and have become a model of participatory conservation at the global level, serving as a living expression of the concept of UNESCO's Man and Biosphere Reserve Programme. Thanks to a civil society petition, which was organized and administered by Martha Isabel and GESG, in 1997 the Federal Government declared the Sierra Gorda region a Biosphere Reserve. It was the first natural area in Mexico to gain protected status through the efforts of local communities, and it occupies 32.02% of the territory of Querétaro. The work of Martha Isabel has been instrumental in the ongoing management and protection of the Reserve.
In 2001, through Martha Isabel's efforts, GESG became Mexico's first non-governmental organization to obtain approval for a Fullsize Global Environment Facility (GEF) Project, titled "Conserving the Biodiversity of the Sierra Gorda Biosphere Reserve". The project, with funds of $6.7 million USD, was administered by the UN Development Programme (UNDP), operated by the National Commission on Protected Natural Areas (CONANP), and executed by GESG and its sister organization, Bosque Sustentable.
This project allowed GESG and Martha Isabel to build capacity, infrastructure, and economic value for forest ecosystem services in the region, which in turn permitted the comprehensive implementation of the SGBR Management Plan. The execution of the project involved raising matching funds of 400%, which resulted in a total investment of $48.5 million USD in private and public funds distributed under sustainable criteria, a sum without precedent in the history of conservation in Mexico.
As winners of National Geographic's Geotourism Challenge, GESG and Martha Isabel established the "Sierra Gorda Tourism Destination" with support from the Inter-American Development Bank. Through this project, the organization trained more than 75 impoverished tourism micro-operators in customer service and developed new products and packages to offer a world-class visitor experience.
The State Mechanism for Carbon Compensations was developed under Martha Isabel's guidance and used a GESG product, Biodiverse Carbon, as a benchmark. GESG developed Biodiverse Carbon in a successful effort to simplify the complicated requirements of the Kyoto Protocol and adapt them to the local context, and, through this program, the organization has established the foundations of an economy of conservation over 40,000 hectares, an area in which forest ecosystems have acquired new monetary value and local property owners have become providers of ecosystem services.
Martha Isabel actively participated in the creation of Querétaro's state law on climate change, pushing for the inclusion of "green" policies to continue strengthening the State Mechanism for Carbon Compensations.
Through GESG, Martha Isabel also operated the first forest carbon project in Mexico validated by the Rainforest Alliance's Gold Standard, under the VCS (Verified Carbon Standard) and CCBA (The Climate, Community & Biodiversity Alliance) standards.
Martha Isabel, through GESG and its sister group Bosque Sustentable, developed Mexico's first NAMA (Nationally Appropriate Mitigation Action) for carbon capture in forests and soils. Registered under SEMARNAT, the NAMA is an innovative proposal that builds on the organization's experiences with Biodiverse Carbon, the State Mechanism for Carbon Compensations, and holistic management to compensate forest property owners and livestock producers for the capture of carbon on their properties in the Sierra Gorda and the rest of Querétaro, as well as project replication areas in the states of Chihuahua and Sonora.
Currently, Martha Isabel, as Director of GESG, leads the Alliance for the Conservation of the Sierra Gorda Biosphere Reserve, a coalition of organizations and micro-businesses that has formed and grown under Martha Isabel's leadership. Participating institutions include: Productos y Servicios Sierra Gorda, S.A. de C.V., a conservation micro-business whose profits finance part of the Alliance's operations; Bosque Sustentable A.C., an organization with projects in soil regeneration, holistic management, and the development of products based in ecosystem services; Joya del Hielo A.C., an organization that coordinates a network of private nature reserves in the Sierra Gorda; and the Sierra Gorda Earth Center, provider of a program of education and capacity-building, which allows the Alliance to share experiences and knowledge through a diverse offering of courses and workshops directed at participants from all levels of society. Each of these organizations performs specific functions to complement the work of GESG and empower local communities, with participation from actors including local micro-entrepreneurs and personnel of other protected areas and civil society organizations.
Through the leadership of Martha Isabel, another community organization, Promotora Comunitaria Sierra Gorda, was formed, comprised of 73 ecotourism micro-entrepreneurs from the region. Martha Isabel's guidance has helped members grow their businesses and improve the administration, customer service, quality of services and organization of their enterprises.
GESG is a member of networks and institutions including the international network of Savory Institute Hubs, the Adventure Travel Trade Association, UN Ecosoc, UN Global Compact, UNCCD Network of CSOs, IUCN, Schwab Foundation for Social Entrepreneurship, and ASHOKA. These memberships and partnerships allow Martha Isabel and the organization to share experiences and support the development of other organizations.
Winners of the UNEP's Champions of the Earth Award, Rolex Award, National Geographic Society's Buffett Award, Wangari Maathai Award, National Geographic's World Legacy Award, and numerous other national and international awards and recognitions.
How would you explain women's role in climate change mitigation? And why women's role in climate change mitigation has been ignored for so long?
In rural communities, women are in direct contact with and manage natural resources and therefore they must be the leaders when it comes to climate change solutions. As hardworking agricultural producers adopting regenerative tools and educators forging a more frugal, austere, and self-sufficient society, women represent the gateway to the masculine territory of corn cultivation. They innovate, using organic practices.
To conserve natural resources and prevent the destruction of the ecosystems, we have been valorizing the scenic beauty, strengthening local capacities, improving people's infrastructure and equipment, and attracting tourism that was previously unknown to the region. In the Sierra Gorda, 95% of microenterprises are managed by women, who have a greater ability to integrate family members into their tourism services. Community tourism has a strong gender orientation, since it works with the skills that local women learned as housewives but now share their special cuisine and generous heart by offering tourism services.
We know that the planet has been lacking the visionary, loving, intuitive, and conciliatory hand of women. In this day and age, mothers must be the first environmental educators, instilling in their children love for the land, amazement for the wonders of nature, and respect for life that has been incubating in eons of time. They should alter their consumption habits and encourage preservation of resources and produce, as well as feelings of belonging and responsibility for the territory.
The brilliant shine of accomplishing change are embodied within the women that are assuming the emergency, awakening entrepreneurship, raising a wave of love with thousands of small, local actions, which include the operation of regenerative tools and the development of skills that enable to generate a new value for ecosystem services.
How can we support your activities, the Sierra Gorda ecological group?
Our biggest limitation is insufficient funding to scale up our action within the region, as well as to replicate it in the other states of the country. Fundraising, political will, equipment, training, and provision of the support for all the networks that we work with require continuous presence. We are building bridges between the gaps, between people that live in extreme poverty and external opportunities.
We have developed a rich basket of products and services that are offered by the local communities and their forests. They range from community tourism and artisanal products to the mitigation of carbon footprint under the local protocol. We need your support to promote them in niches that are focused on the products of a Biosphere Reserve. A solidary market that is socially and environmentally responsible would be very valuable to us, since we are looking to expand our horizons and focus on a more specialized public with minimum impact that wants to conserve nature and mitigate poverty.
We want our proposal to be heard, since we offer effective climate change mitigation strategies. We have overcame a learning curve and are ready to replicate and share our experiences,